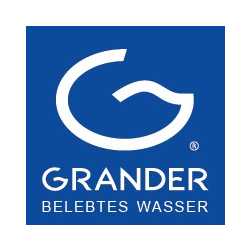 Water is our most precious food and our most important daily companion
GRANDER® underlines the motto "value of water" with water campaigns
Jochberg (OTS) – Water is the source of our life. Nevertheless, we often forget how important this elixir of life is for us humans, but also for animals and plants and for all life on earth. Water is not only our most precious food, it is our most important daily companion. We need water for drinking, cooking, bathing, showering, cleaning, watering plants, feeding animals and producing food. Our body needs water for cardiovascular function, the transport of nutrients and breakdown products and for heat regulation. And water creates living space, is used for locomotion and, in many parts of the world, is responsible for generating electricity.
But water is much more than that – for each of us, water has a different, very special value. This year's theme of the international World Water Day "The Value of Water" is intended to draw attention to this.
World Water Day has been held every year on March 22nd since 1993. It has been organized by UN-Water since 2003. It was proposed in 1992 in Agenda 21 of the UN Conference on Environment and Development (UNCED) in Rio de Janeiro and adopted by the UN General Assembly in a resolution on December 22nd of the same year. The aim of the International World Water Day is to draw attention to the importance of water as the basis of life for mankind, the protection of water resources and their sustainable use.
GRANDER® also focuses on water – and has been for more than 40 years. To support the importance of World Water Day, GRANDER® has been initiating exciting water campaigns around World Water Day for many years. This year there are again two WASSER campaigns to take part in: www.weltwassertag.com
Water competition:
At www.weltwassertag.com the question "From which source does the water used as the basis for the GRANDER® water revitalization devices come from?"
If the question is answered correctly, a GRANDER® water revitalization device (up to 1 ") worth up to 2,100 euros can be won.
With this profit, a household can experience the invigorating effect and the advantages (enjoyment & taste, vitality & well-being, yield & growth, optimization & savings, environmental protection & resource conservation) of GRANDER® water revitalization.
Water photo competition:
The theme of the 2021 water photo competition is "The value of water".
All those interested in water, nature and photography, from young to old, whether professional or hobby photographers, are cordially invited to send in their pictures.
Either send the pictures by 23.03.2021 to [email protected], or post them on Facebook / Instagram, link @GranderWasser or @ grander.wasserbelebung and post them with the hashtag #granderfotowettbewerb.
Have fun with the water activities and appreciating the value of water!
Online look behind the scenes
Since we cannot personally invite you to our company headquarters in Jochberg, we invite you virtually to a journey into the world of water revitalization …
Date: March 22nd, 2021, 4:00 p.m. – 5:00 p.m.
Place: ON-LINE
online, Austria
Url: https://www.grandervertrieb.de/de/news-infos-kunden-erfahrungen/grander-kundentag-maerz-2021-news
Inquiries & contact:
Mag. Karin Wagner
Press@grander.com